Words of the Founder: "Learning from Failure"
by Morihei Ueshiba,
[Editor's Note: This writing of O-Sensei was originally published in The Aikido, Volume 25, No. 4, 1988 and reprinted in The USAF Eastern Region Newsletter in 1989.]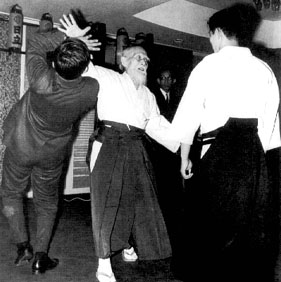 The principle components of Aiki Keiko training are Ki-form exercises and the Principle of Tanren (Tanren- ho).
The most extreme type of Ki-form training is a true life-or-death duel. Budo are originally devoid of the contests that are common to most sports. This is because in Budo, a contest invariably involves risking serious injury or death. It is, moreover, a great mistake to seek out contests, as to inflict a lethal injury on anyone is the greatest crime a man can commit.
From ancient times in Japan the guiding principle of Budo has been to avoid injury or taking the life of one's opponent. True Budo is the Way of Great Harmony and the purification of body and soul (Misogi). Budo is in other words, governed by the principle that, in order for man to practice the order of heaven on earth, it is first necessary for him to correct the self and bend to the Ten Thousand Things. It is for this reason that I am particularly saddened by the teachings of those who know little of the true Budo of which I speak and who have fallen, instead, in the militaristic-forms of martial arts that developed later in our country's history.
Many p